Most of us have multiple Gmail accounts as it is rather inconvenient to use single email id for both professional and personal work.Earlier gmail doesn't allow to access multiple accounts simultaneously in a single browser.To access your other email id you have to either logout of current account or login into new account from different browser. Now Google has introduced a new feature Multiple sign-in in Gmail by this you will be able two Gmail Accounts in same browser.
Trick to Access Multiple GMAIL Accounts at a Time:-
* Login to your Gmail Account.
* Open Account Settings .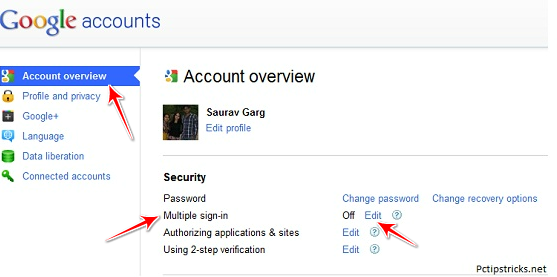 * Select Account Overview option from left panel
* In Security section look for Multiple sign-in option and click on the Edit button.
* Now check mark ON option and also do check mark on all its conditions and then click on Save button.
* Now Sign Out of your Gmail Account and again login.
* Click on your Google profile image and then click on Switch Account option
* Now will get option to Sign in to another Account
* Click on it and login with your another Gmail Account there.
That's it. By this trick you don't have to open your Gmail Accounts in different browser.
It works only for Gmail accounts.